Vendor:
X1 Discovery
UN Group: UN-43233200 - Security and protection software
X1 Discovery X1 Distributed Discovery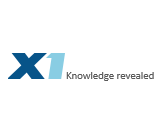 Unique in the industry,
X1 provides blazingly fast access to information that people need to maximize their productivity and make the best decisions.
X1 Distributed Discovery upends the traditional collection process by analyzing ESI on a custodian's assigned computer within a moment's notice, prior to collection, enabling true early case assessment and focusing collections as precisely as desired. X1 Distributed Discovery is the only software that gives organizations the capability to access, analyze and act upon data in just minutes on an individual's computer and company networks for the purpose of complying with internal policies, data audits and regulatory requirements.
X1 Distributed Discovery (X1DD) represents a unique approach, by enabling enterprises to quickly and easily search across multiple distributed endpoints and data servers from a central location. Legal and compliance teams can easily perform unified complex searches across both unstructured content and metadata, obtaining statistical insight into the data in minutes, instead of days or weeks. With X1DD, organizations can also automatically migrate, collect, delete, or take other action on the data as a result of the search parameters. Built on our award-winning and patented X1 Search technology, X1DD is the first product to offer true and massively scalable distributed searching that is executed in its entirety on the end-node computers for data audits across an organization. This game-changing capability vastly reduces costs while greatly mitigating risk and disruption to operations.
X1DD operates on-demand where your data currently resides - on desktops, laptops, servers, or even the Cloud - without disruption to business operations and without requiring extensive or complex hardware configurations. Beyond enterprise eDiscovery, GDPR and other information governance compliance functionality, X1DD includes the award-winning X1 Search, improving employee productivity while effectuating that all too illusive actual compliance with information governance programs, including GDPR.
X1 Social Discovery is the industry-leading solution that aggregates multiple social media and web sources into a single user interface. For law firms, legal consultants, and law enforcement who need to collect and search data from social networks and the internet.
Available as:
Commercial license
Academic license
Goverment license
Volume license
OS support:
Windows 10
Windows Server 2012
Windows Server 2016
Media available:
ESD
---
| Order | Item no | Name | Type | Price excl. VAT | Price incl. VAT 24% |
| --- | --- | --- | --- | --- | --- |
| Order | 20913 | X1 Search Client 8.x with 1 Year Maintenance (ESD) | License | 109,00 € | 135,16 € |
License prices are often shown as a price per user or computer. Moonsoft reserves the right to change pricing without prior notice. The prices indicated are shown with value added tax (usually 24% except for books) and without. To see more information about a product, click the item number in the table above.