Vendor:
Red Hat
UN Group: UN-43232403 - Enterprise application integration software
Red Hat Red Hat OpenShift Container Platform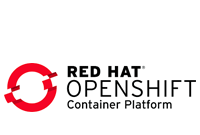 Red Hat OpenShift Container Platform is a secure, enterprise-grade platform that combines the industry-leading container orchestration engine with advanced application build and delivery automation features that can span infrastructures - private, public, hybrid. OpenShift provides the application architectures, platforms, and services that let organizations bring development and operations together, while it provides the foundation for digital transformation.
Available as:
Commercial license
OS support:
Media available:
ESD
Similar products:
No similar products

---
| Order | Item no | Name | Type | Price excl. VAT | Price incl. VAT 24% |
| --- | --- | --- | --- | --- | --- |
| Order | 182726 | Red Hat OpenShift Container Platform, Premium 2Core 1-Year | Subscription | 3 200,00 € | 3 968,00 € |
License prices are often shown as a price per user or computer. Moonsoft reserves the right to change pricing without prior notice. The prices indicated are shown with value added tax (usually 24% except for books) and without. To see more information about a product, click the item number in the table above.